$920 million worth of Deicorp projects break ground with funding
13 July 2020
Well-established property developer and builder Deicorp today announced it gained approval and will be commencing construction on 1,300 apartments in sites across Sydney.
Over the past four months, during the height of the COVID-19 pandemic, Deicorp obtained development consent – and just finalised project funding – on four residential projects.
Consistent with its philosophy of transit-oriented development, Deicorp's projects are located adjacent, to or very close by, to train stations at Castle Hill, Petersham, Rockdale, and Rouse Hill.
Together, they represent a $920 million development.
Fouad Deiri, Deicorp's Managing Director, said the developer had secured finance and was starting construction on all four sites.
"While many other developers are slowing down or suspending future projects, we've decided to keep moving forward," he said.
"Construction, and the jobs it creates are a major driver of the economy. If we want to protect employment and rebuild our economy, we need projects like these.
"Our pipeline of work will see Deicorp supporting more than 3,000 jobs over the next 24 months and will deliver much-needed new housing for people across Sydney."
Mr Deiri added that each of the Castle Hill, Petersham, Rockdale and Rouse Hill developments were being financed by Australia's leading non-bank corporate lender Metrics Credit Partners (Metrics).
"Deicorp is enormously proud of the strong and successful partnership we have enjoyed with Metrics over the years. We hope this relationship continues to grow and strengthen in the years to come."
Andrew Lockhart, Managing Partner at Metrics, said: "Having already worked with Deicorp for many years, we are pleased to finance all four of these projects. We value our business relationship with Deicorp and have an excellent understanding of the way they do business.
"They will provide a good source of investment returns for our investors," he said.
"Deicorp have a proven track record and meet our rigorous lending requirements, producing quality dwellings that are in demand from Sydney's property market. This is in keeping with our aim to provide lending that both helps the economy by supporting good companies to grow and providing investors with reliable and consistent income."
The Castle Hill site includes 272 units within 200 metres of the new Showground Metro station.
The Rouse Hill 'Proximity' project comprises 375 apartments with retail and commercial space across six buildings.
The Rockdale 'Alfarn' development is a mixed-use project with 382 apartments with 1,900m2 of retail space across three buildings. Stage one has already been completed.
The Petersham 'The Siding' development is a mixed-use residential project that includes a 3,500m2 state of the art home for the Petersham RSL Club, and over 357 apartments across three buildings. Works for the site have commenced and estimated completion is March 2022.
Founded in 1999, Deicorp is a privately-owned property development and construction group for residential, commercial and retail real estate. It has delivered over 8,000 apartments and more than 150,000m2 of retail/commercial suites. Deicorp currently has $2.5 billion of work in the pipeline.
Complementing the big banks
Mr Lockhart added that Metrics had stepped-up and were helping property developers with their funding needs. "Corporate, project and commercial real estate borrowers are increasingly seeing non-bank lenders as an important source of capital, closing the gap left by the banks, particularly in a tighter lending market."
"The corporate loan market remains open," he said. "Loan transactions are being successfully closed and we continue to enjoy a strong pipeline of lending opportunities from quality borrowers."
"Since inception we have continued to invest in our direct origination capabilities and developed very strong relationships with corporates."
Since January, Metrics had completed transactions worth c.$900 million, with close to $400 million transacted at the height of the pandemic, between March and mid-April.
Metrics has grown to become Australia's largest non-bank corporate lender since its launch in 2013 and has lent over $10 billion to ASX-listed corporates, project and infrastructure companies, commercial real estate developers and operators, and private equity groups that need acquisition finance. It recently added to its suite of funds with the launch of an unlisted retail private debt fund called the Metrics Direct Income Fund.
–
More information about the Metrics Direct Income Fund can be found here.
Disclaimer
This communication is prepared by Metrics Credit Partners Pty Ltd (ABN 27 150 646 996 AFSL No. 416 146 (Metrics) and is issued by Evolution Trustees Limited (ACN 611 839 519 and AFSL No. 486217) (Evolution) the responsible entity and the issuer of the units in the Metrics Direct Income Fund ARSN 637 459 968 (Fund).
The information provided in this communication is of a general nature only, does not constitute financial product advice and has been prepared without taking into account your objectives, financial situation or needs. Before making an investment decision in respect of the Fund, you should read and consider the current product disclosure statement for the Fund (PDS) carefully and in its entirety and assess whether the Fund is appropriate given your objectives, financial situation or needs. If you require advice that takes into account your personal circumstances, you should consult a licensed or authorised financial adviser. The PDS is available at www.metrics.com.au.
Neither Evolution nor Metrics guarantees repayment of capital or any particular rate of return from the Fund and the value of your investment may rise or fall. Neither Evolution nor Metrics gives any representation or warranty as to the reliability, completeness or accuracy of the information contained in this communication. To the maximum extent permitted by law, Metrics disclaims all and any responsibility or liability for any loss or damage which may be suffered by any person relying upon any information contained in or omission from this communication. All opinions and estimates included in this communication constitute judgments of Metrics as at the date of this communication and are subject to change without notice. Past performance is not a reliable indicator of future performance.
Other News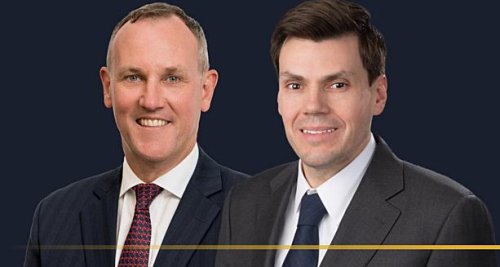 Andrew Lockhart, Managing Partner at Metrics Credit Partners, provided insights into the opportunity and outlook for Australian private debt in…
Read more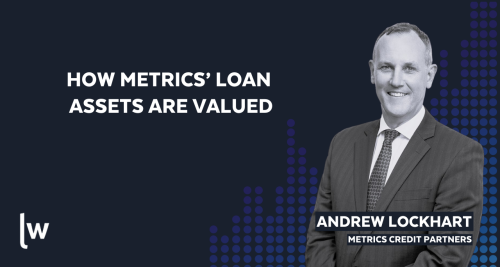 The price you pay is almost as important as the asset you're buying. Here's how Metrics determines asset value.  It…
Read more