MCP Master Income Trust wins Lonsec Listed Fund Award
The MCP Master Income Trust (ASX: MXT) has won the Listed Fund Award at the Annual SuperRatings & Lonsec Fund of the Year Awards Dinner, hosted in Melbourne.
The award came a year after MXT was listed on the Australian Securities Exchange. The Trust is managed by Metrics, a leading non-bank corporate lender with in excess of $3 billion of assets under management.
"We are very proud to be recognised with this highly coveted award as the top fund in this category, and it is especially rewarding given our recent entry to the listed market," says Metrics Managing Partner, Andrew Lockhart. "Our experienced team is focused on originating great deals in the corporate loan market, managing portfolio risks, and continuing to deliver for our investors."
"This award is a reflection of our dedication to creating quality investment products and on our promise to provide stable capital value and predictable monthly income," says Lockhart. "We have exceeded our IPO target range and we hope to continue to win investor support and build on the positive momentum."
"Metrics has delivered a market first, by creating a Listed Investment Trust that gives every day investors access to the bank-dominated private loan market, in a liquid format and tradable in smaller scale on the ASX," Lockhart says.
About the MCP Master Income Trust
The investment objective of the Trust is to provide monthly cash income, low risk of capital loss and portfolio diversification, by actively managing diversified loan portfolios and participating in Australia's bank-dominated corporate loan market. Metrics, as investment manager of the Trust, uses active strategies to balance delivery of the Target Return, while seeking to preserve investor capital.
About the Trust Company (RE Services) Limited
The Trust Company (RE Services) Limited (ABN 45 003 278 831) (Responsible Entity), part of Perpetual Limited, is the responsible entity for the MCP Master Income Trust ARSN 620 465 090 (MXT or Trust). On September 26, the Responsible Entity announced a distribution of 0.90 cents per ordinary unit. The record date is 1 November 2018 and is payable on 8 November 2018.
The Trust Company (RE Services) Limited
ACN 003 278 831
ABN 45 003 278 831
AFSL 235150
Level 18 Angel Place
123 Pitt Street Sydney,
NSW 2000
INSIGHTS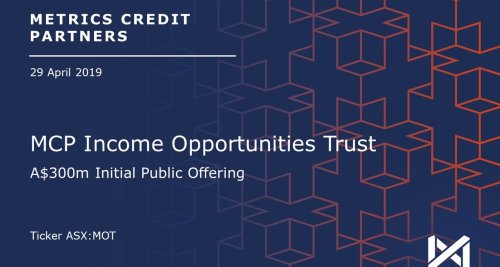 Sydney, 29 April 2019: The Trust Company (RE Services) Limited (ABN 45 003 278 831) (Responsible Entity) is the responsible…
Read more